UCV Welcomes New Administrative Assistant
The Utah Center for Vocology is happy to welcome Angie Keeton to our administrative team. Angie will serve as Administrative Assistant to the UCV researchers and staff, providing operational and technical support. Angie comes to the academic campus from the Voice Disorders Center, an ENT and Speech Pathology clinic at University of Utah Hospitals and Clinics. She brings a wide variety of experience from past administrative roles with medical research, education, and arts nonprofits.
Angie also has a deeper interest in the work done at the Utah Center for Vocology due to her love for singing and the human voice. She studied vocal performance at Indiana University, earning bachelors and masters degrees from the Jacobs School of Music. IU was also where she met her husband, Seth Keeton, a bass-baritone who teaches on the voice faculty of the University of Utah School of Music. After graduating, Angie performed as an apprentice artist at a number of opera companies and choral ensembles in the US and Germany, taught private lessons in Minnesota and was adjunct faculty at Luther College. She worked as the teaching artist at Minnesota Opera, a position she held for 8 years. It was there she learned how challenging the status quo and being creative in shaking up old systems can lead to better processes and improved outcomes for project-based work.
"The idea of a 'Teaching Artist' was a foreign concept at most opera companies in the early 2000s. Visual arts, dance, and theatre companies had adopted the term much earlier and used the positions to cultivate deep connections with the communities they were serving. For opera companies, it was much easier and more common to hire younger emerging professionals to rehearse and perform one 'show-in-a-can' to take on the road to schools around the state. But Minnesota Opera's Education Director hired me to work full-time as an artist-administrator, where I was co-creating residencies that were individualized for each community we partnered with." Residencies in rural communities were longer and offered more interactive performance opportunities for students and local musical groups. "Our goal was to highlight the musical resources that the communities already had and just added that boost they needed to go the extra mile and do something extraordinary—they got to have ownership in the whole process."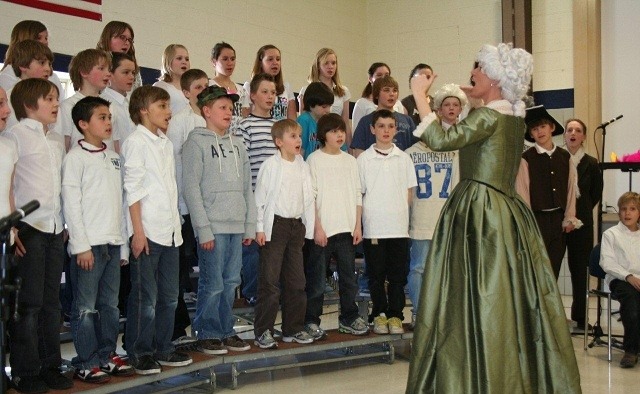 Since moving to Utah she has done some performing with the chorus of the Utah Opera as well as some public and private performances. Once COVID slows down, she looks forward to getting back into singing more in public.
Angie and her family have fallen in love with the Wasatch mountains. Growing up in Missouri, she was accustomed to cornfields and occasionally some cliffs down in the Ozarks or along the Mississippi or Missouri rivers. Living in the Utah high desert has been quite the adventure. She enjoys living in a place where you look for the mountains to find your bearings and has become an avid hiker.
On her new role at UCV she says, "I had heard so much about the work of the NCVS and the Utah Center for Vocology since moving here. Many of my friends and colleagues are graduates of the Summer Vocology Institute and sing nothing but praises for what they have been able to accomplish thanks to this program. They also regularly utilize the research done by UCV in their pedagogy classes, voice lessons, and therapy sessions in so many ways. I am so proud to have a chance to support this talented team of researchers and educators."
About the Blog
Discussion channel for insightful chat about our events, news, and activities.
Categories